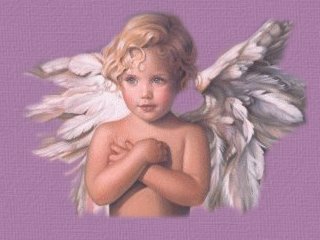 Song Playing is
"You Are My Special Angel"

What Are Special Angels
A Poem about Special Angels
My Special Angels


What Are Special Angels
I believe that there are special angels....four kinds of very special angels.

[ First ] [ Second ] [ Third ] [Fourth ]

First Kind

The First type is children. I believe that all children are born as angels and one look at a sleeping child should tell you why. They have the peace and love that only comes from a place that has seen the light.



Second Kind

The second kind of special angels that I believe in are God's Angels. The bible speaks of God's Angels.
It offers many references to the variety of angels and their appearances on earth to humans.

The dictionary offers references to the different types of angels as well. Webster's Dictionary offers the following as their description on angels:
1) a spiritual being superior to man in powe and intelligence;
2) an order of angels
3) a white robed winged figure of human form in fine art;
4) a messanger, harbinger
5) a person believed to resemble an angel.


I do believe that there are many angels walking amongst us every day.



Third Kind

The third kind of special angel I call "Earth Angels". They always seems to be doing something special or caring for someone else. I'm sure you've heard the expression or maybe even used it yourself..."She's such an angel". Why?

Because the person's deeds resemble those of an angel. Or then again...it may be an angel in disguise?? Who's to know???

Special Earth Angels
If an angel is someone
who's so filled with love,
It's a gift that they constantly share.
If an angel is someone
who looks out for others,
and gives them a nudge here or there.
If an angel is someone
who touches your life,
with a heart, that's both joyful and wise.
Then even though you don't have halo or wings,
You're an angel - in human disguise!



Fouth Kind

The Fourth kind of special angel is the "Special Angel" of someone who has gone to Heaven that you loved very much. Although I'm unsure if the bible has any scriptures refering to this type of angel, but I do know that society and those who have lost a loved one, will tell you that there is such an Angel.

My Special Angels
I have some very special angels and I meet more each day.
My Father, Kenneth Clark
My My Mother, Lucillea
My Grandmother, Bertha
My Grandmother, Florence
My Aunt Jeanette
My Aunt Rita and Uncle Dunc
Uncle Paul
My Aunt Simon
My Neice, Crystal



My Main Page

All graphics © 1998 - 2002
by Lady Care Designs
All right reserved.
All other copyrights belong to their respective holders.


This background set made and copyrighted by Lady Care.
Thank you for respecting the copyright laws.